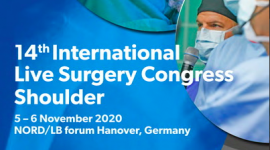 14th International Live Surgery Congress
Organisateur: Intercongress
Lieu: Hanover Messe (NORD/LB forum), 3. Allee 3. Strasse Messegelände (Nordallee), 30521 Hanover, Allemagne
inscription:
aller
"LIVE is LIFE". According to this motto, we present for the 14th time the International Live Surgery Congress Shoulder from 5 – 6 November 2020 in Hanover, Germany. As the only advanced training event in joint surgery to date, our concept is not to offer predominantly lectures or videos "from the retort", but to provide 100 % authentic education in the field of shoulder surgery by

• live clinical examinations
• live radiological analyses
• live surgeries


During 2 days top internationally renowned shoulder experts will demonstrate their clinical examination technique, analysis of the radiological imaging and subsequent surgical the technique of the previously examined patients in 16 cases of various shoulder pathology. The event will cover the entire range of shoulder pathologies such as instability, rotator cuff lesions, shoulder fracture, and fracture sequelae, as well as shoulder arthroplasty. This unique concept means that the faculty will not only focus on the surgical techniques, but also on "the path to surgery", i.e. the indications, and discuss all of this with each other and with you. Moreover, the event will offer:

• live dialogue during the examinations and surgeries with the surgeons and moderators: You can ask questions directly and make comments.
• panel discussions at the end of each day
• industry workshops

Recordings of all examinations and surgeries will be available online afterward. All participants will receive a free access code.

Join us and participate in this unique event which will be held at the international Hanover exhibition area.


You will have a big benefit to your daily practice.
*Please note that the event has been postponed to 2021.